Estimated reading time: 20 minute(s)
Searching for the perfect wedding photographer in Brisbane? Narrow down your choices with our handpicked list of top Brisbane wedding photographers.

Brisbane is an absolute favourite among wedding photographers. The city is, after all, home to wedding venues that boast of spectacular views of the Brisbane River.
Brisbane also prides itself on picturesque locations like the City Botanic Gardens, Roma Street Parklands, and, of course, Kangaroo Point. To cap it all off, because of the mild weather, various flora makes for beautiful backdrops all year long.
If you're planning a Brisbane wedding, your photographer is arguably one of the most important members of your team. All the details you lovingly chose for the occasion, all the meaningful moments big and small throughout the special day… it all comes down to your wedding photographer to immortalize these for you.
When it comes to wedding photography in Brisbane, there are definitely many talented individuals and studios for you to consider. No matter what style you might be going for or what other considerations you may have, there's bound to be a perfect match for you.
How Much Does a Brisbane Wedding Photographer Cost?
Getting cost concerns out of the way, there are wedding photographers in Brisbane for every budget. On average, expect to shell out around $1500-1850 for 2-4 hours of wedding coverage. Still, this varies on both ends, as there are of course many factors that go into how much you can expect to spend on wedding photography. First, most wedding photographers often offer a wide range of package options. From shooting just the most significant bits of the ceremony to full-day coverage including getting ready all the way through to the reception party, you have complete control over the services to avail of. Some photographers even allow you to customise packages down to how many shooters you'd like and if you want some lovely drone photography images. Don't hesitate to discuss your budget with your wedding photographer. Another factor that goes into pricing is location. If you're planning for a Brisbane wedding, going for local photographers might be a good idea. Lastly, remember that you are paying for your wedding photographer's talent, skill, and expertise. There's no single rule of thumb when it comes to the cost of creativity. As long as you're getting the output and quality you want at a price you're willing to pay, then that's what matters most.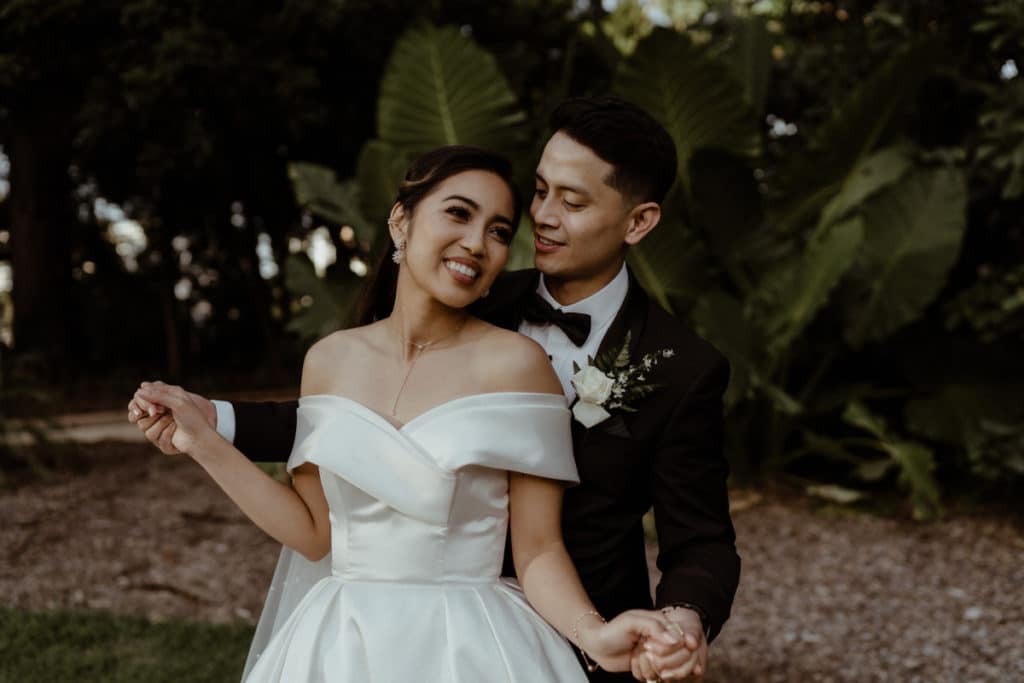 How do I Choose the Right Brisbane Wedding Photographer?
Beyond budget, here are a couple more things you may want to think about in your journey to finding the right Brisbane wedding photographer for you.
One of the first—and perhaps most significant—things to consider when choosing a wedding photographer is their aesthetic. Every photographer has a signature style developed over years of honing their craft. Check out their body of work and this distinct style will become obvious to you pretty quickly. A wedding photographer's best work happens when you let them do their thing. Asking them to change their style to fit your vision will only result in uninspired, lacklustre output… or in many cases, a polite refusal in the first place. Instead, find a photographer whose vision matches yours. Does their portfolio resonate with you? Does it excite you? Most importantly, does it reflect the wedding aesthetic you are aiming for? Maybe you'd prefer your wedding shots to be dramatic, moody, and steeped in luxurious colour. Or perhaps light-as-air shots filled with creamy sunshine are more your thing. Either way, it's essential to find a photographer who is already an expert in pulling off what you have in mind.
Different wedding photographers take different approaches on the day itself. Some are adamant about only shooting candids. Others specialise in private portrait sessions with the couple, away from the guests and the wedding party. Many tend to mix it up. If you're not the type who wants to be posed and directed, then that should factor into your decision. If you prefer someone to orchestrate a couple of perfect shots with a bit more guidance, then take that into consideration too. Again, it boils down to what you would be most comfortable with, and the kind of photos you want to end up with for your wedding album.
Your wedding day is undeniably one of the biggest days of your lives. And on such a significant (and yes, at times stressful) day, you definitely want to surround yourself with a squad you vibe with. Your wedding photographer should be somebody you are 100% comfortable with. The hottest tip for looking your best in photos? Being relaxed in your own skin and just being yourself. The right wedding photographer will be able to give you that wonderful experience. And this isn't something that's easy to pin down, either. It's not exactly a matter of quizzing someone, looking for the "right" answers. We suggest meeting up with a few wedding photographers on your shortlist to see if there's chemistry between you. Even better, consider trying out an engagement shoot before the wedding itself! If budget permits or it's something that you'll be doing anyway, this can be a great way to feel out how well you and your potential wedding photographer of choice work together. It's an opportunity to actually see them in action, and have a little taste of what the experience might be like on the wedding day itself. Ultimately when it comes to personality, it's really a matter of making that connection. When you know, you know.
Word of mouth recommendations
Yes, reading reviews posted up on wedding photographers' own websites is great for getting a feel for what they're like and what they offer. However, of course, they've chosen the best ones to showcase. Ask friends and family for recommendations. If you see someone's wedding album on social media and love the shots, ask the couple about their experience! Getting input from people you actually know is always helpful. Also, check with your other vendors if there are any wedding photographers in their circle they can recommend. After all, nobody has more experience and connections in the field. Having a team of vendors who have worked together in the past is always an advantage as well.
Your wedding photographer's job doesn't end after the big day. They still have to go through all the frames they shot, pick out the best of the best, and polish these up into their final form. This process takes different lengths of time for different photographers. If turnaround time is a factor, discuss this with your shortlisted photographers. Also, make sure you and your potential photographers are on the same page in terms of inclusions, rights to photos, and requirements for prints. Different photographers structure their packages differently. Most don't give a fixed figure for the number of edited photos you will be receiving. Instead, they commit to shooting hours with a ballpark estimate on how many final images the output will consist of. In terms of copyright, generally, your wedding photographer owns all rights to your photos, and you may require special licensing for certain uses such as prints. Don't be afraid to ask about any of these things—your wedding photographer will be more than happy to break it down for you.