Estimated reading time: 70 minute(s)
Looking for wedding cake ideas and inspiration? From the different types of wedding cake to a complete guide on how to choose the perfect one for you, we've got you covered.
Everything You Need To Know About Wedding Cakes in 2021
The wedding cake is, without a doubt, one of the most important parts of your reception. Over the years, several wedding traditions and customs have been modified or even disappeared entirely, but not the cake. The cake has managed to maintain its relevance because of its pivotal role on the big day. Beyond being a much-anticipated dessert among guests, the wedding cake holds both symbolic and aesthetic significance. These roles are what make it so special. In this article, we'll take you through everything you need to know about this reception essential, from what wedding cakes symbolize to which wedding cakes are best.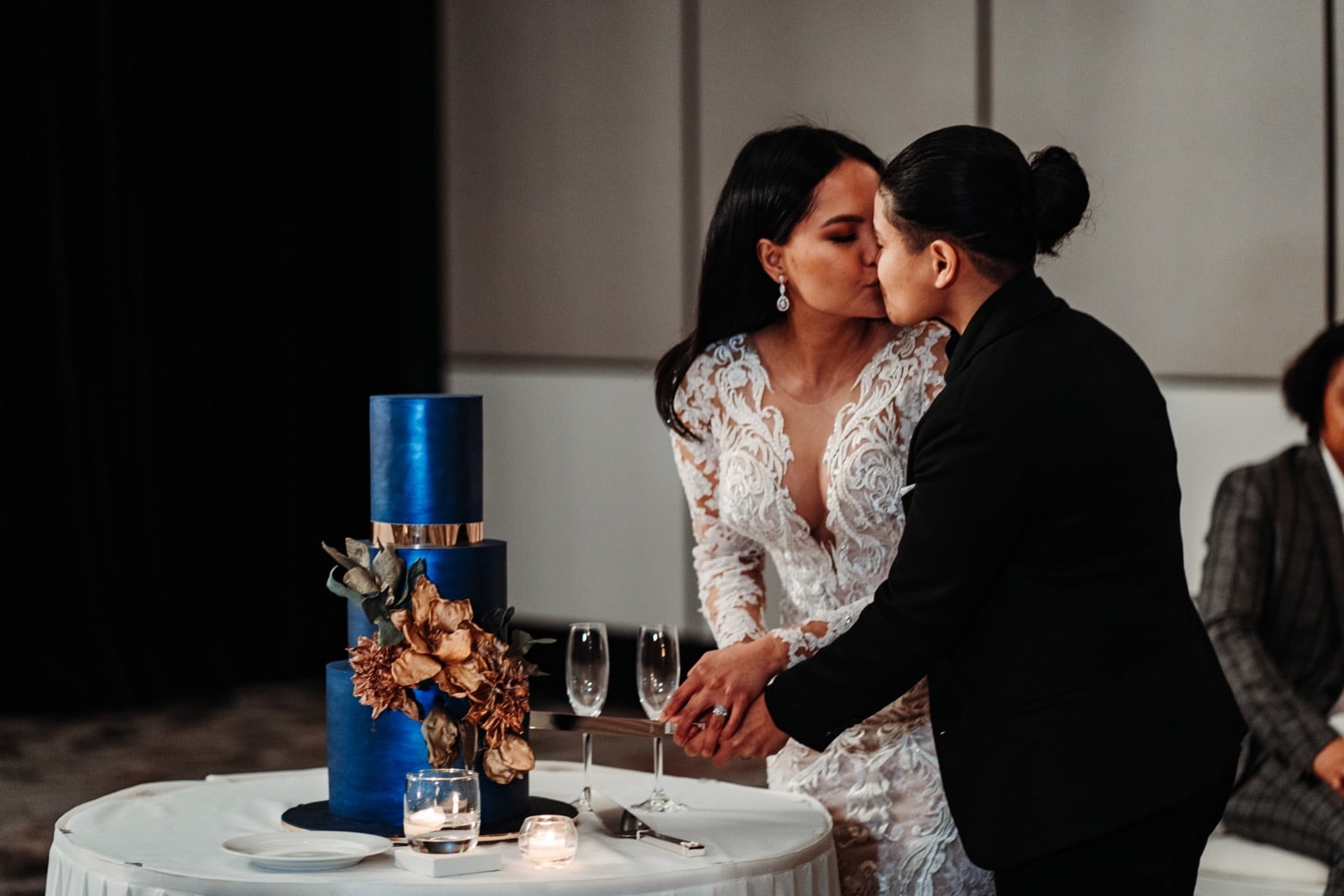 How Important is the Wedding Cake?
(Not big on history and symbolism? Click here to skip to the yummy bits!) More than just a reception pièce de résistance, much of the wedding cake's significance comes from its long, colourful history.
How Did The Tradition Of Wedding Cakes Start?
To better highlight how important wedding cakes are in a wedding reception, let's take a trip back in time. Several theories on the origin of wedding cakes exist. The most notable of these is that linking the origin of cakes to an ancient Roman tradition. In this tradition, unsweetened buns made of mostly wheat or barley were crushed over the bride's head as a symbol of good luck. Even though a few crumbs were eventually eaten, that wasn't the real focal point of the exercise—good fortune was. The couple and guest alike eventually consumed these pieces of bread. The next trend was the introduction of the bride pie. Unlike the wedding cake, we're familiar with today, the bride pie was savoury in nature. It typically consisted of a pie crust filled with sweetbreads or minced meat. In an ancient tradition somewhat reminiscent of today's bouquet toss, the bride pie was used to "determine" the next in line to get married. A glass ring was hidden in each pie, and whichever lady found it was believed to be the next bride. This tradition was transported to medieval Britain where it started its evolution into something closer to what we have today. In this era of the cake revolution, eating the cake began to take on as much importance as the rituals associated with it. This gave rise to the first sweet wedding cake, the Banbury cake of 1655. This was a flat pie-like pastry filled with spiced and sweetened currants. Still, the tradition was full of symbolism. In Medieval England, newly wedded couples would kiss over a stack of cakes piled as high as possible. If these cakes did not crumble or get knocked down, it was then taken as a sign of good things to come in the union. It was during Victorian times that the wedding cake began to take its classic form. At least for the wealthy, refined white sugar became easier to obtain, and Queen Victoria popularized its use as frosting for wedding cakes. This started the tradition of the pure white wedding cake, as well as what we know today as royal icing.
What Do Wedding Cakes Symbolise?
Over the years, there has always been lots of symbolism associated with wedding cakes.
White Wedding Cakes
First of all, its traditional white colour was originally meant to symbolise the purity and chastity of brides. Today this belief is no longer necessarily important nor relevant for most couples, and colour has become more of a design decision.
Wedding Cake Cutting
The original intention of cutting and distributing of cake by the bride was because this symbolised fertility. With time, wedding guests increased and weddings grew bigger, so the task of distribution then required an additional hand. Hence, it was required of the groom to contribute to the cutting and distribution of cakes to the teeming wedding guests. In modern times, cutting the cake together is a symbol of the first task a couple does together as husband and wife.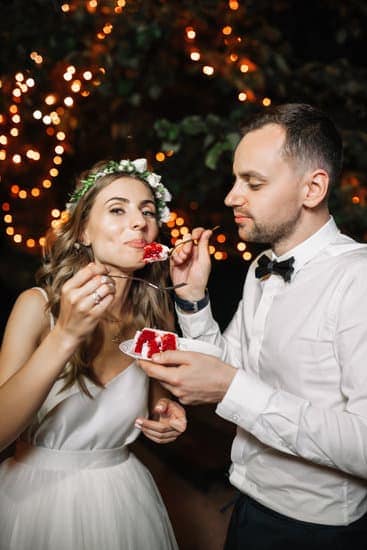 Another symbolism of the wedding cake is that it connotes union and a promise to provide. So, today, before couples begin to distribute cakes to their guests, they first share a bite between them. This bite symbolises their new union and their determination to provide for themselves.
Saving the top tier
Although it seems to have waned in popularity in recent years, saving the top tier of the wedding cake is also a traditional practice. This dates back to the 19th century. Newlywed couples would save the top tier for the christening of their first child, partly inspired by Queen Elizabeth II, and partly simply for practicality and savings' sake. This is given the fact that back then, most wedding cakes were traditionally fruit cakes that aged well. Today, for couples that do practice this tradition, it is part of the first wedding anniversary celebration. A few bites of the wedding cake can bring couples right back to special moments from the big day. It can be a nice little way of reminiscing and relishing those memories.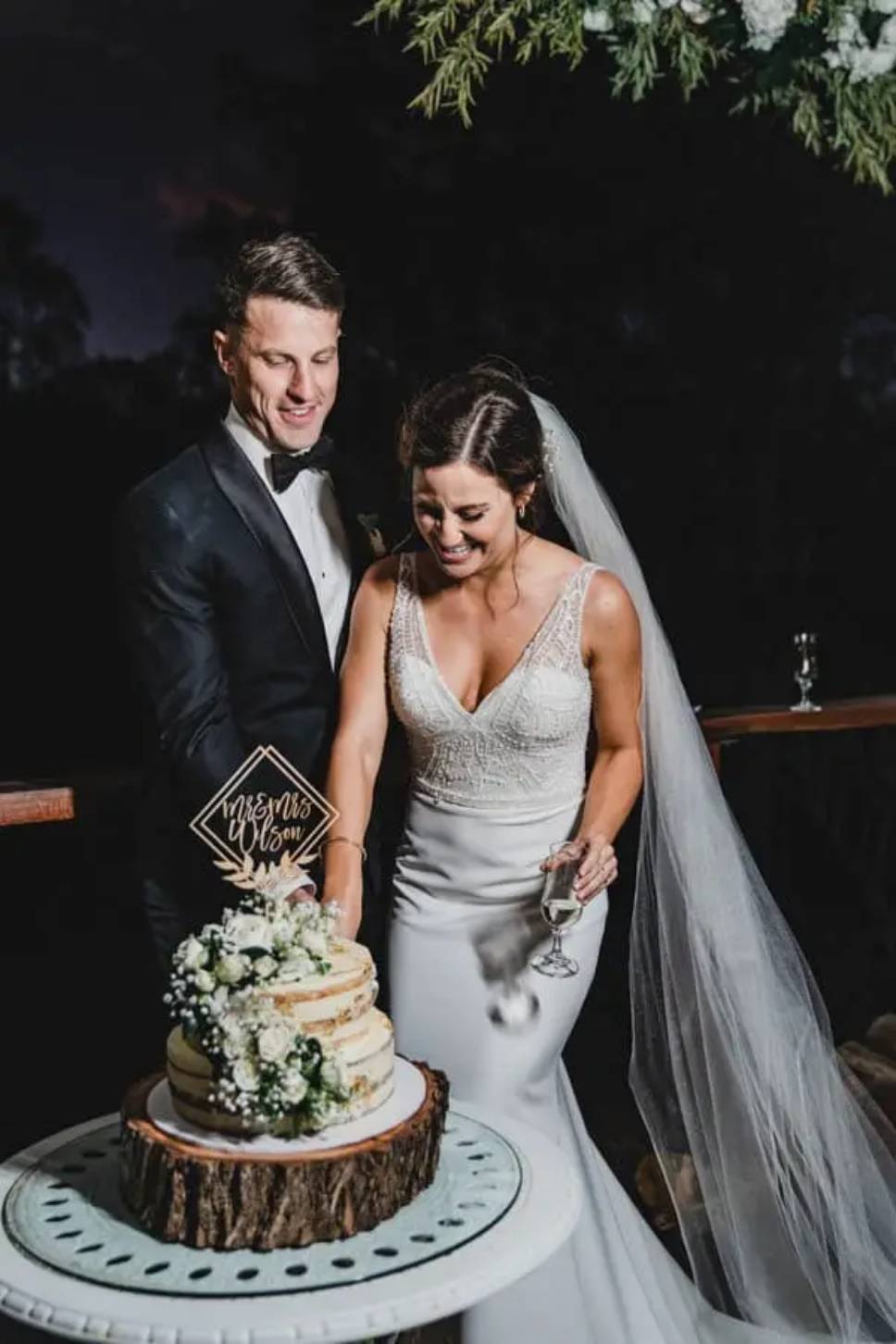 How to Choose a Wedding Cake
Basics of Choosing a Wedding Cake
Planning ahead
The wedding cake should be one of the last things you take care of. This is because so many other factors come into play when making certain decisions on your cake. For instance, if you plan to serve the cake, finalising the guest list would most likely be essential in figuring out how big you'd want your cake to be. Your venue of choice might also be something to consider when it comes to deciding on the size and structure of your cake. If planning an intimate gathering in a cosy venue, for example, you wouldn't want a cake that overwhelms the space. On the other hand, a modest, minimalist cake would probably get lost visually in a huge ballroom. Your wedding aesthetics, styling, and even florals could also have a significant impact on your wedding cake design. You wouldn't want to end up with all the beautiful elements, only to find that they don't fit well together. Having said all this, though, even though it's one of the last things decisions to make, you don't want to leave it to the last minute to order your wedding cake. Different vendors will have different requirements, but many would require at least 2-3 months lead-time. Of course, the cake bases themselves are always freshly baked. But, especially if you're going for a complex design, other parts of the overall output may take more time. Bakers and confectioners sometimes need to create or source certain design elements such as special décor or flowers in advance.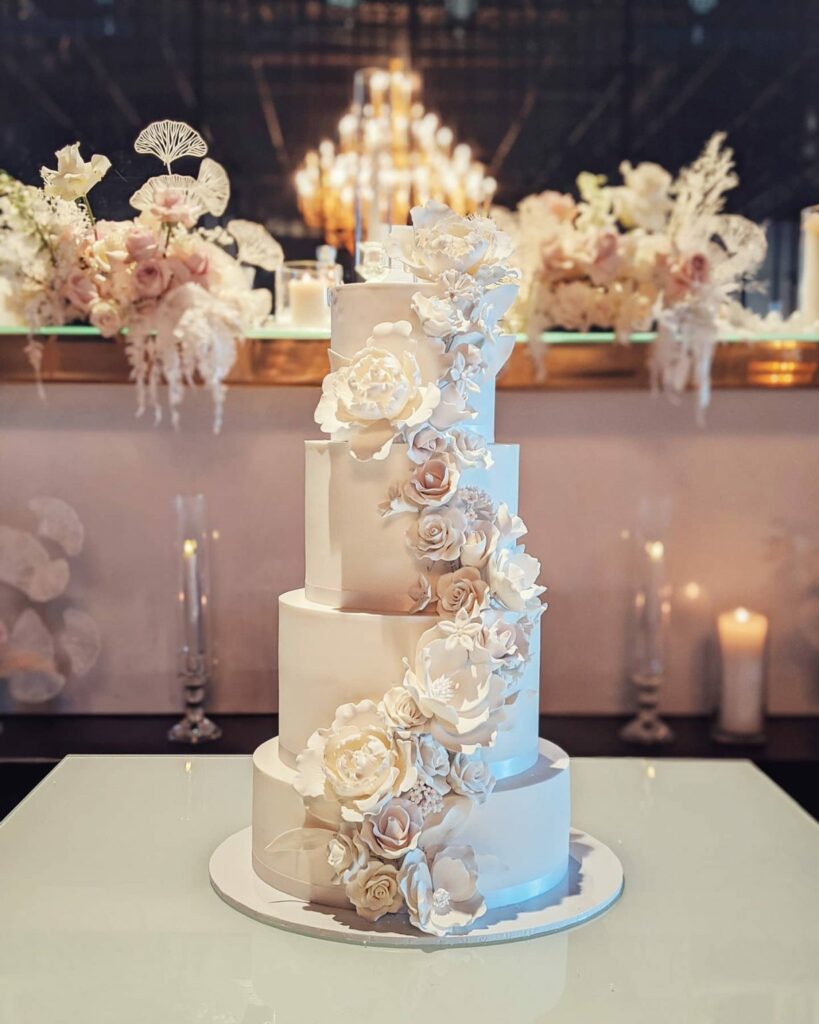 How much do wedding cakes cost?
Budget is definitely a consideration for many couples. So how much do wedding cakes actually cost?
Before we discuss this, it is important to understand that no matter what your budget is, there is something sumptuous for you by way of a cake. You can remain within your budget and still land a good cake.
With dream wedding cakes, there are no set rules or prices that govern cake vendors. These businesses base their prices on factors such as their overhead cost, level of expertise, attention to detail, cake style, and popularity.
This means that the less experienced, small-scale vendor may offer lower prices because they have fewer staffs to pay and they are also trying to break into the market. It is also possible to find a newcomer with so much to offer by way of his quality, offering his cakes for a relatively high price. With this, it is clear that a different number of rules influence the prices for cakes including individuality and the level of demand being recorded.
However, on average, cakes should go for around $300-$600.
This is not a rule of thumb though as there are couples who want it big and exotic. These couples might be willing to pay above this benchmark.
On the other hand, there are also couples who just desire a simple ceremony with immediate friends and family. Such couples might want a cake a little below the price stated herein.
So for cake pricing, it's a matter of choice. There is something for everyone, only the quality and size might differ.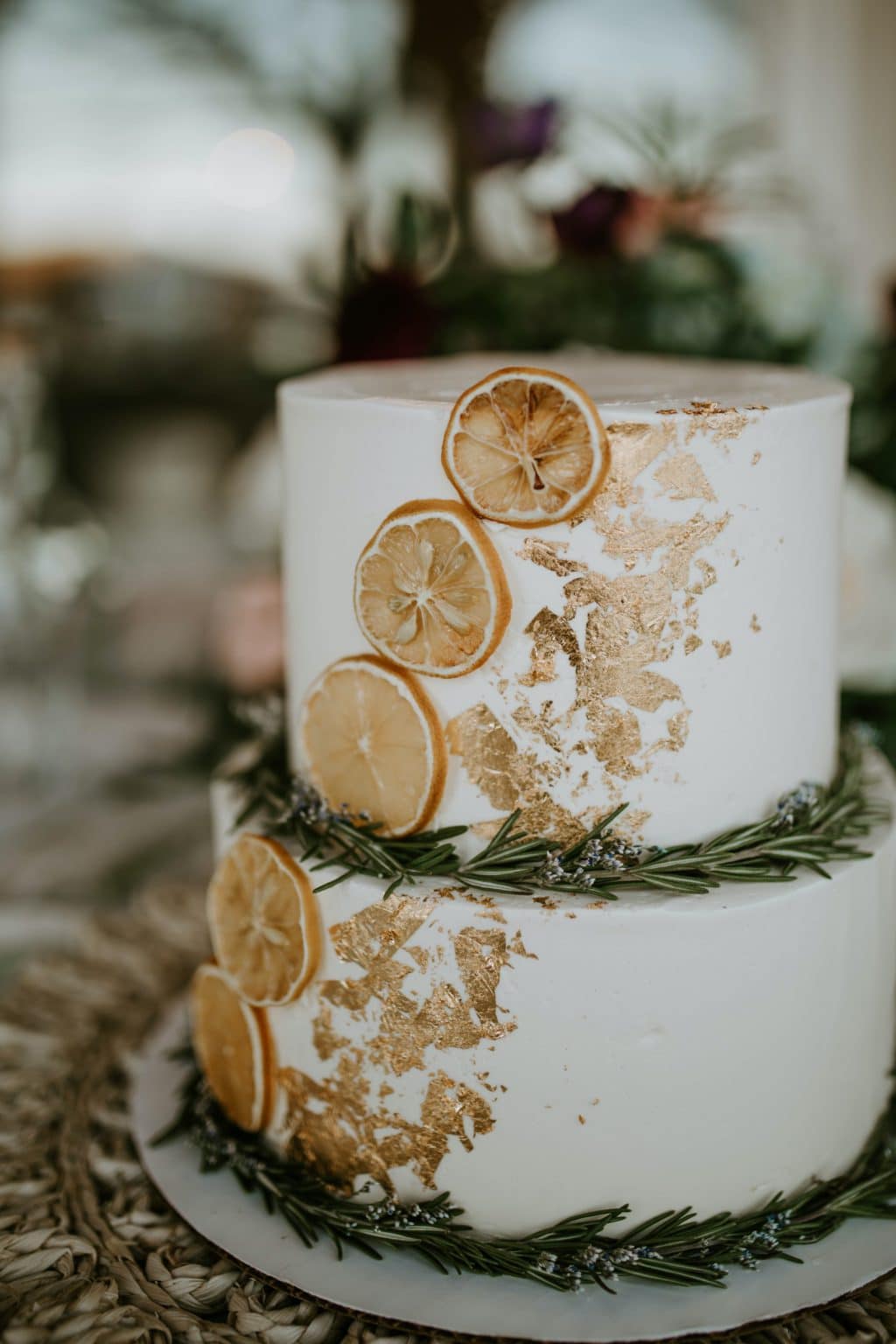 Essential Elements of A Wedding Cake
When it comes down to it, there are three elements of a wedding cake that you'll need to decide on in your journey to the perfect wedding cake for you.
1. Basic wedding cake type & structure
Traditional wedding cakes
Traditional wedding cakes are probably the most popular type of all. These cakes are either square or round in shape and almost always tiered. While there is no set number of tiers, three layers of decreasing size seem to be the average. These tiered cakes are mainly (if not totally) white, adorned with classical piped-on icing details, or sometimes, flowers and ribbons. When it comes to flavour, traditional wedding cakes tend to lean more classic as well. Vanilla, strawberry, chocolate, carrot, or even old-school fruitcake are popular choices.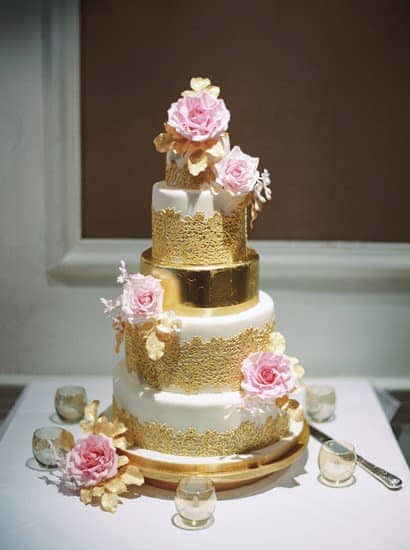 Modern or contemporary wedding cakes
There are no limits when it comes to defining what exactly a modern wedding cake actually looks like. Some cakes of this type stray completely from tradition. Many choose to play with geometry, opting for shapes like hexagons or octagons instead of squares or circles. Others explore the structure of the cake itself with hanging or suspended cakes, upside-down cakes, and tunnel cakes. Most modern wedding cakes, though, are actually updated takes on the traditional cake. "Updates" could be in the form of a liberal use of colour, innovative finishing techniques, or quirky, unique decorative elements.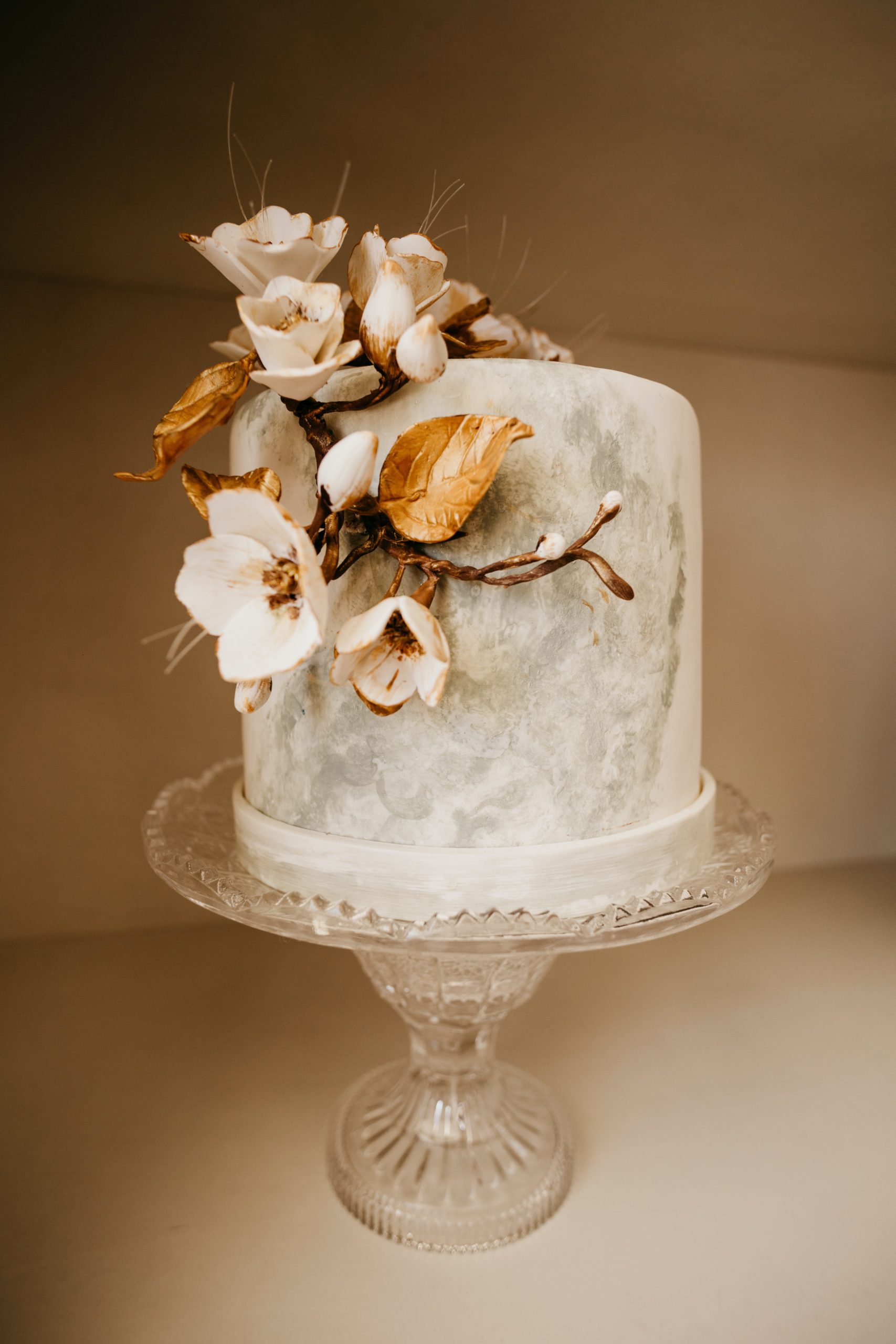 Alternative wedding cakes
Pushing the envelope further, some modern couples go for alternative wedding cakes. Sometimes these are technically not cakes at all, but pieces that serve the same purpose. For example, some couples choose to go with doughnut, cupcake, or even macaron towers. Some even combine all these different sweets (and more) in one alternative 'cake.' Another popular alternative is having individual wedding cakes for each table, or even each guest. These are usually constructed and decorated just like regular wedding cakes… just in miniature.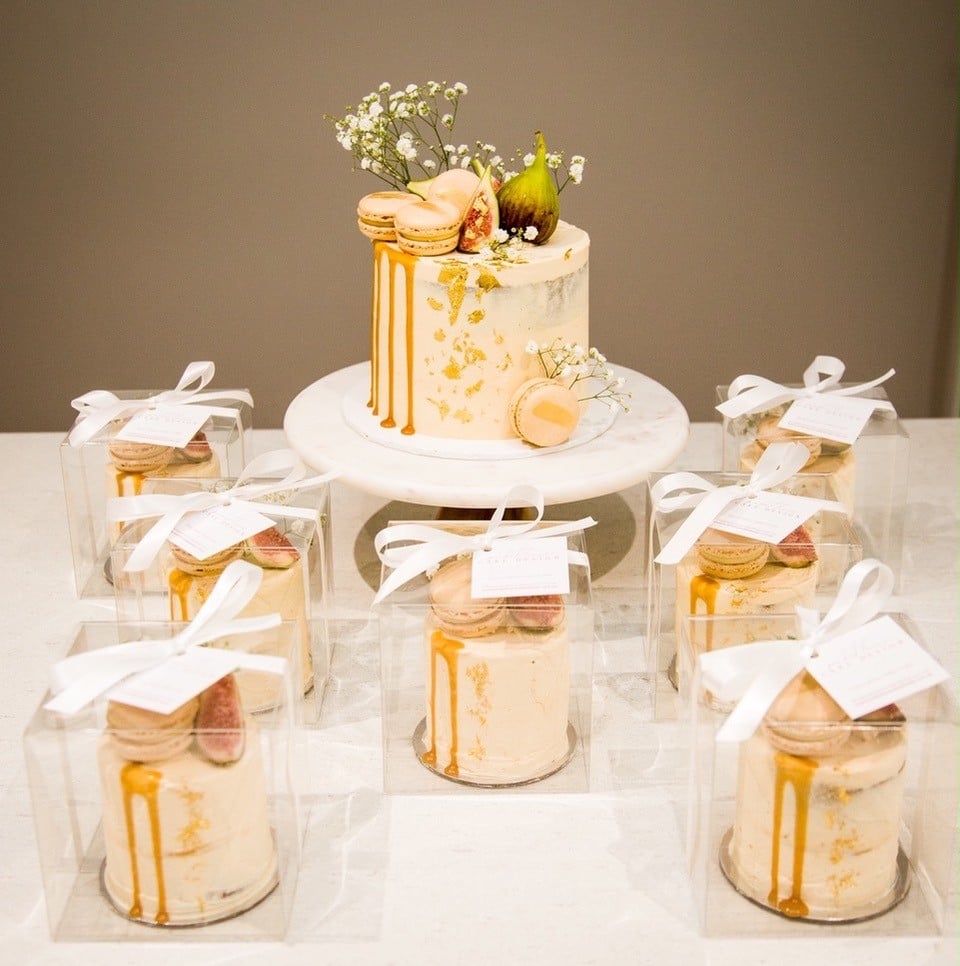 2. Wedding Cake Flavour & Filling
Especially if you plan to serve the cake, you want to make sure that it not only looks amazing but tastes divine, too.
There are quite literally hundreds of flavour options nowadays. These range from rich and indulgent hazelnut praline with dark chocolate to light and fresh lemon poppy seed with cream cheese. Even more complex, experimental flavours are also out there—just ask your potential bakers. And of course, nibble away at the cake tasting session.
Keeping in mind what season your wedding will take place can be a great way to decide on a flavour profile. Fruity, citrus, and floral flavours could complement a spring or summer wedding. Conversely, chocolate, coffee, and spice cakes might be perfect if you're tying the knot in autumn or winter.
And, if you absolutely cannot decide among the delicious flavours or if you and your partner have different preferences, consult with your baker for a workaround. If you're doing a tiered cake, having a different flavour for each of the different layers is often an option!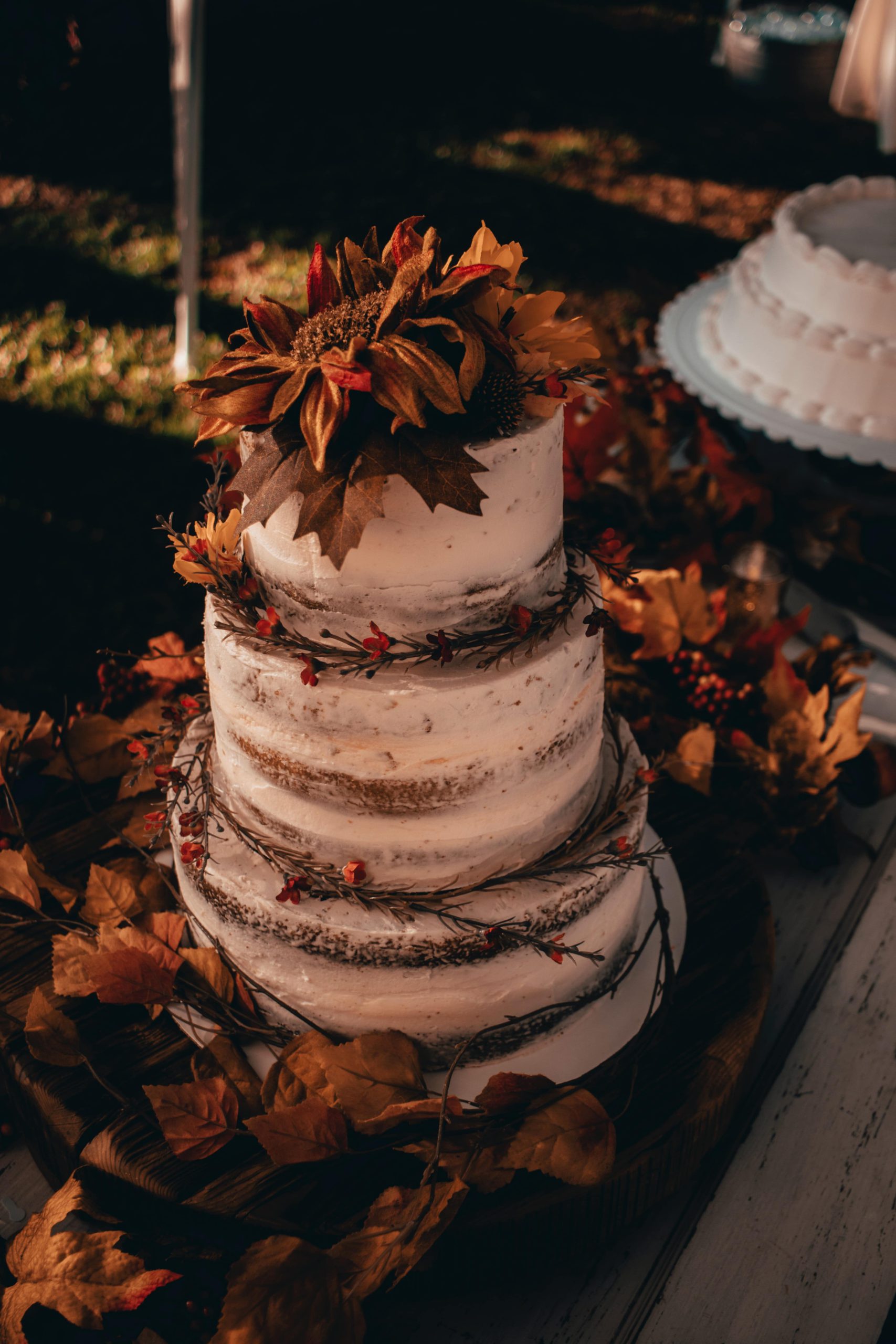 3. Wedding Cake Design & Decor
While taste and construction are crucial, how your wedding cake looks is equally important. After all, this will more or less be the centrepiece of your reception styling—and your co-star in a whole lot of wedding photos.
You definitely want to make sure that your wedding cake design is an extension of your overall wedding aesthetic.
For example, a ruffled cake studded with jewels may look out of place if the rest of your styling is minimalist. In the same, way a monochromatic geometric cake might not be the best option for an extravagant fairytale wedding.
In achieving the wedding cake design of your dreams, there are many options for décor, finish or frosting, and toppers. Read on for some ideas and inspiration below.
Wedding Cake Design Ideas & Options
Popular Wedding Cake Finishes
Fondant wedding cake
Fondant is a favourite among many bakers and cake decorators. This is because it is pliable and mouldable, yet it also has the unique ability to hold whatever shape it is fashioned into.
Icing a cake with fondant entails rolling this out into sheets that are then wrapped around the cake to cover it completely. Because of the seamlessly smooth finish fondant imparts, it is a popular choice for the clean lines of pure white traditional wedding cakes as well as sleek, modern, minimalist designs.
To love: -Can give any cake a luxuriously impeccable finish -Versatile and multi-use, as it can be cut, shaped, and coloured
To think about: -Is one of the pricier options -Taste (or sometimes, the lack thereof) and texture is not for everyone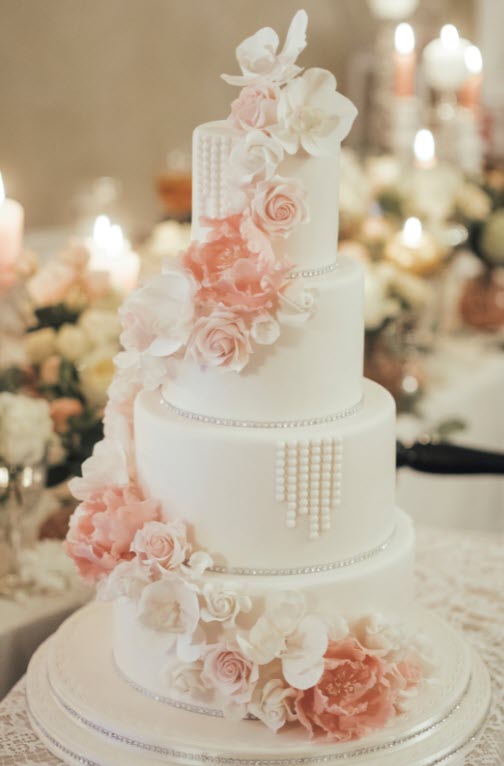 Naked wedding cake
Naked cakes are one of the latest trends in wedding cakes. These cakes are just as the name implies—bare sponge or pound cakes with no icing to coating them.
These can be a good starting point for gorgeous rustic wedding cakes. The simple cake layers held together with the filling peeking through can be crowned with fruits or flowers and foliage, resulting in a folksy effect that's great for garden weddings.
Semi-naked or crumb-coated cakes, where a thin layer of icing (just enough for the base cakes to still show through) is added are also popular options nowadays.
To love: -Raw beauty can be very fresh and pretty, especially for rustic, vintage or garden styled weddings -Relatively budget-friendly
To think about: -Short shelf-life due to the use of buttercream or whipped cream and fresh elements such as flowers and fruits -Cake can dry out easily without a protective layer of outer icing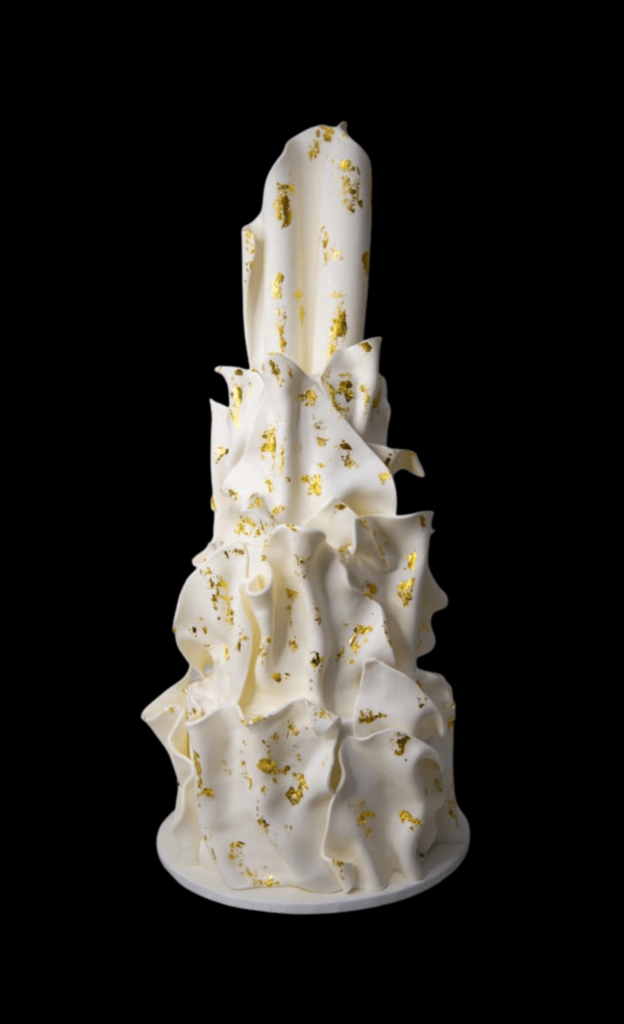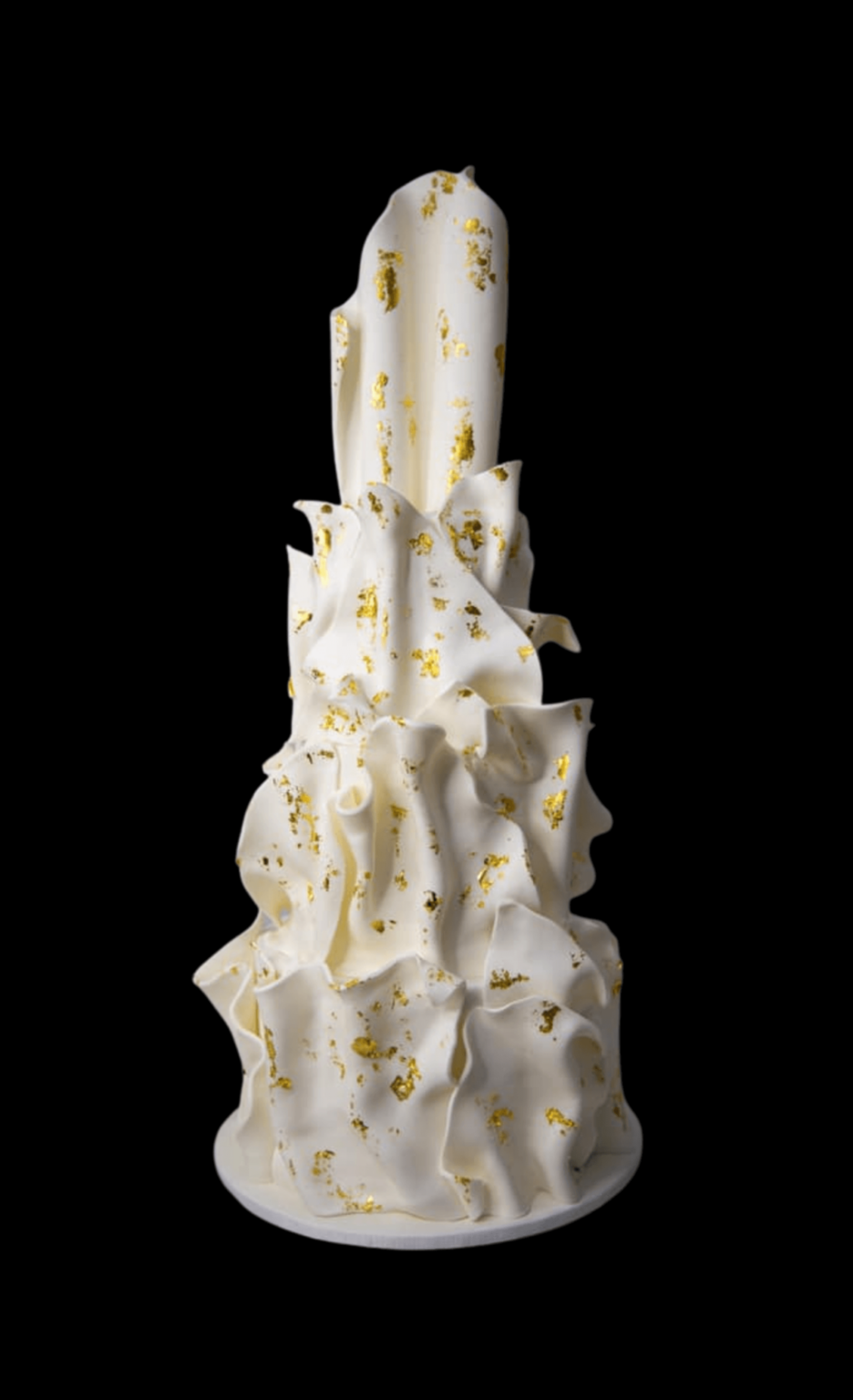 Buttercream frosted wedding cake
Buttercream is probably the tastiest finishes for a wedding cake. With real butter as its main ingredient, it's smooth, creamy, and just downright delicious. It can also be flavoured with different extracts and ingredients such as melted chocolate and even tea. Because of its consistency, it's also used extensively for hand-piped details such as swirls, flowers, hand-drawn designs, and other patterns.
The most common types of buttercream for wedding cakes are American, Italian, and Swiss buttercream. The first is mainly butter and sugar, while its European counterparts are made with different proportions of meringue.
To love: -Excellent taste, consistency, and flavour -Versatile both in terms of flavouring and for use in decorating
To think about: -Melts easily—will NOT stand up well to hot weather
Drip Cakes
Drip cake designs are known for their simplicity and the fun, relaxed vibe they can give off.
To get the drip effect, decorators usually start with either a smooth fondant base or more commonly, a semi-naked cake. Chocolate or other melted, syrupy ingredients are then spooned onto the top (usually around the rim) and allowed to trickle down to get the drip effect.
To love: -Can add a playful, modern touch -Depending on what ingredients are used for the 'drip,' can be a tasty way to decorate
To think about: -Similar to naked cakes, longevity can be a challenge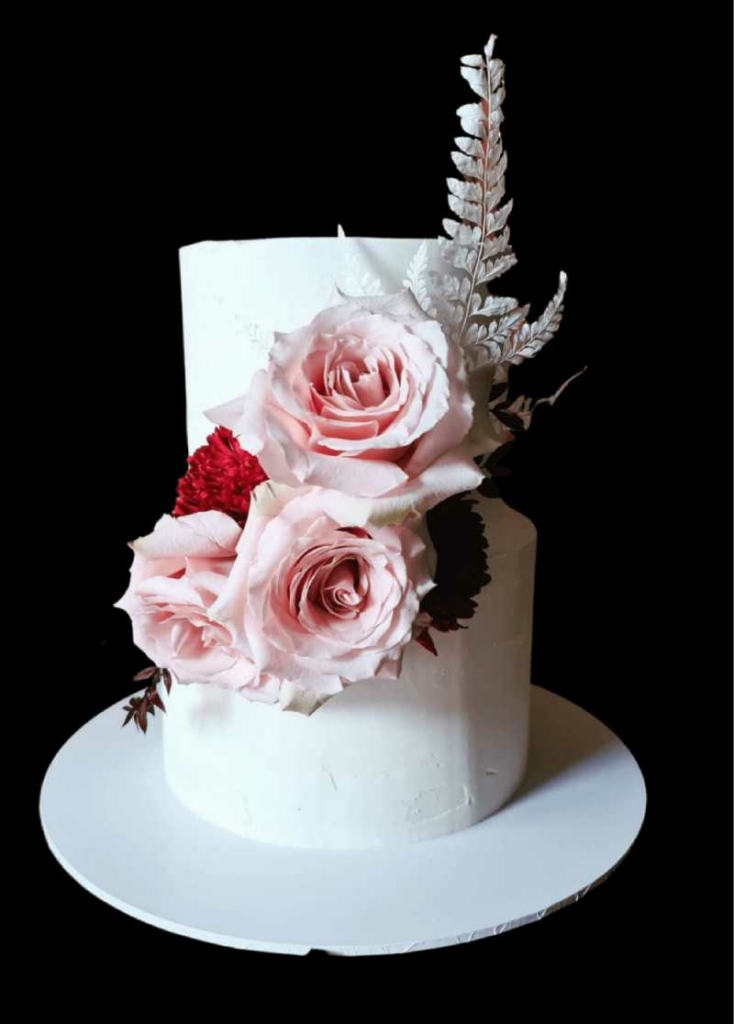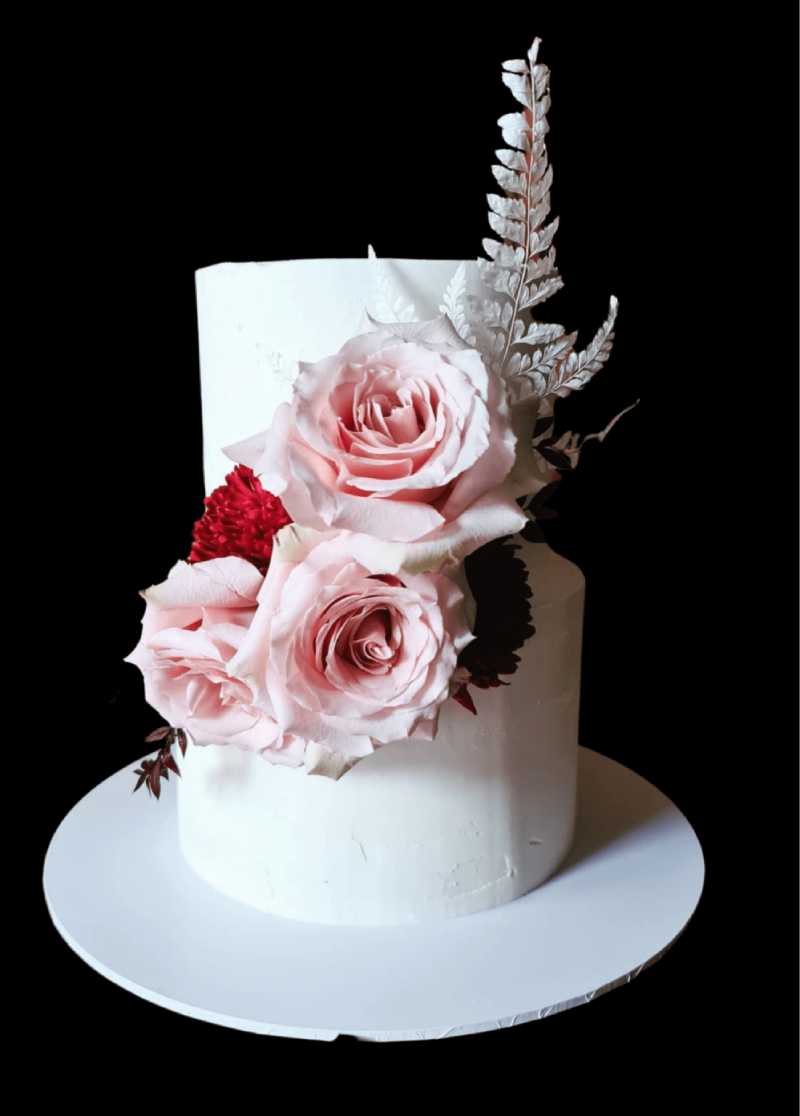 Ganache covered wedding cake
Ganache is actually just a mixture of chocolate and cream, but when done right, it can be a treat for the tastebuds. When using it to frost wedding cakes, it is typically either spread and smoothed onto the entire cake or dripped from above.
To love: -Decadently delicious, especially for the chocolate-loving couple
To think about: -Cannot be shaped nor coloured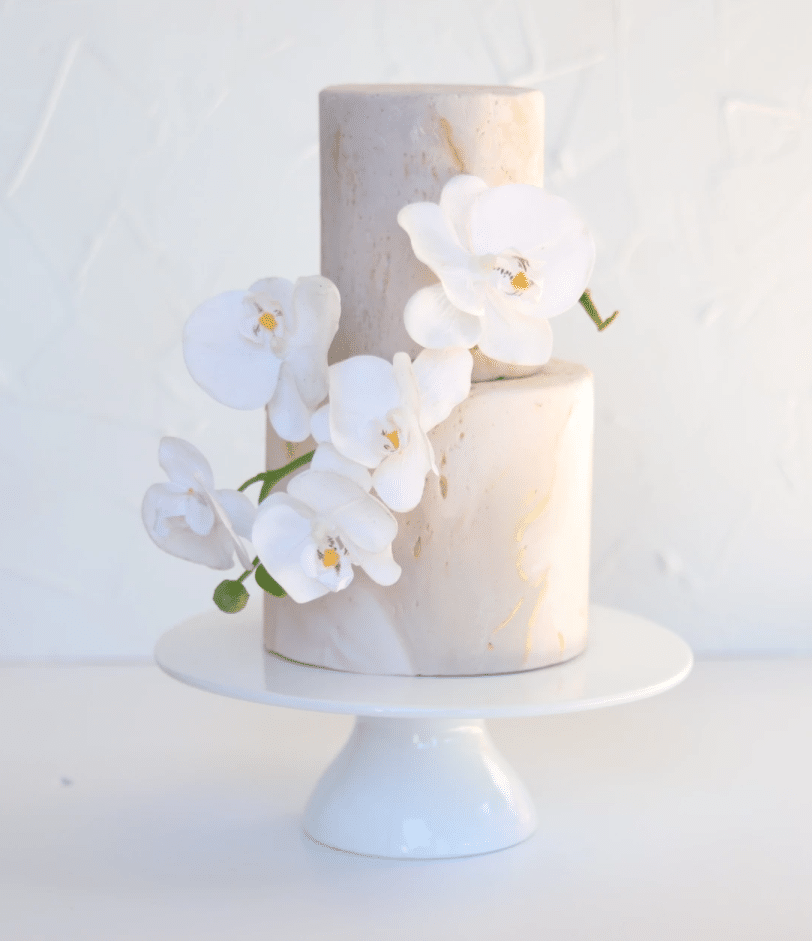 Whipped cream wedding cake
Another delicious option is good old whipped cream. Whether used to cover the cake completely or piped into simple shapes and patterns, whipped cream frosting can make for a lovely, delicate wedding cake finish.
To love: -Soft, creamy, and not too sweet -Can be a cost-effective option
To think about: -Another frosting that does not perform well in hot weather -Not suited for intricate or complex designs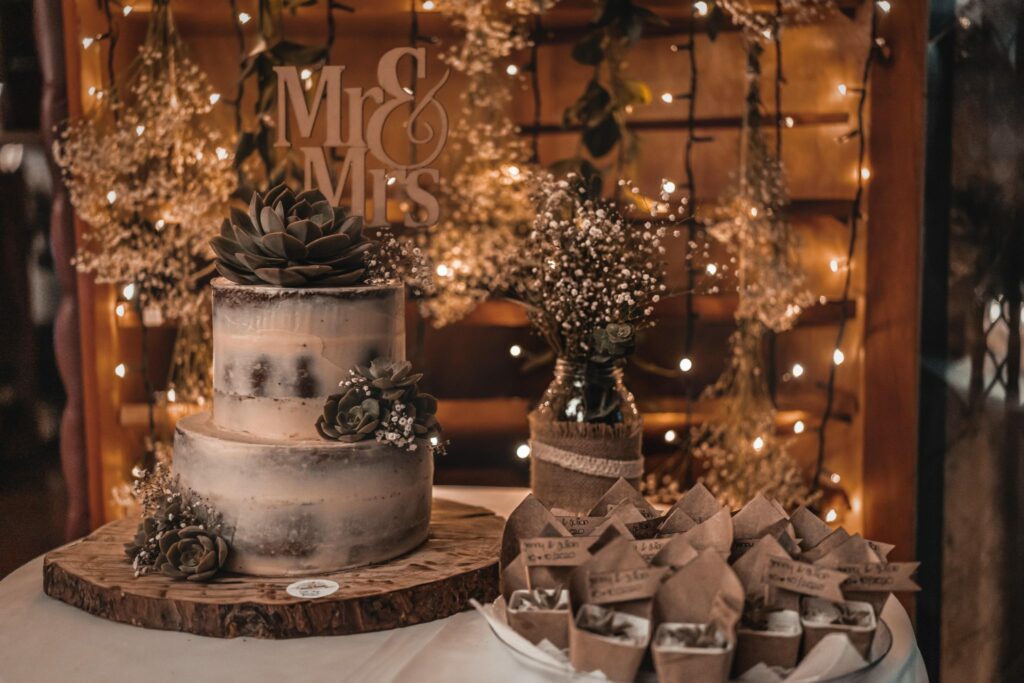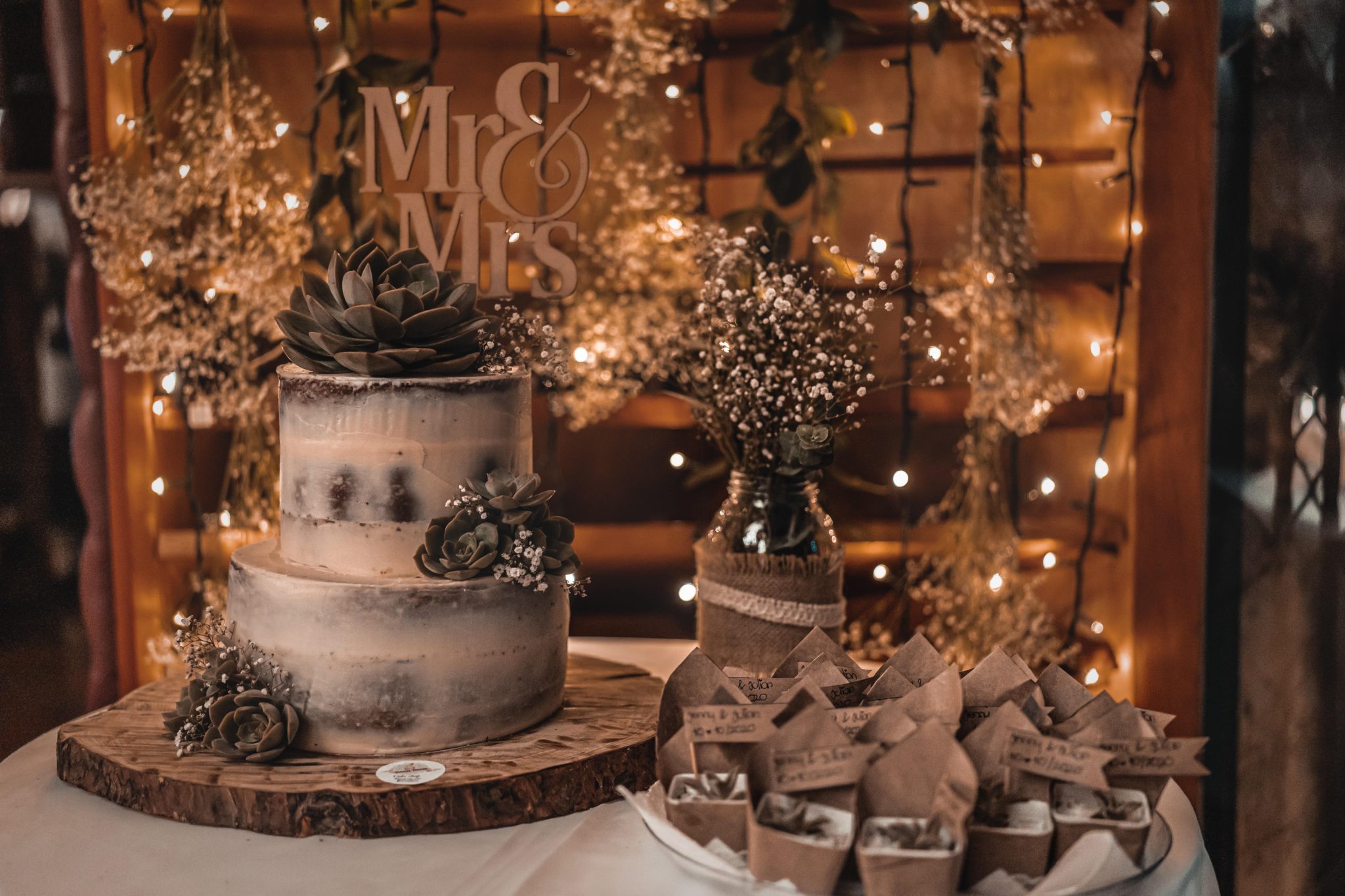 Wedding Cake Décor Ideas
In addition to the overall finish of your wedding cake, it's all the details and design elements that will really bring the final cake to life. Remember, when choosing decorative elements for your wedding cake, keep the overall aesthetic of your wedding in mind. And, most importantly, let your personality shine through. Here are some wedding cake ideas and inspiration:
Flowers This doesn't have to be limited to sugar flowers either! Fresh or dried flowers can be used to spruce up your wedding cake. Connecting your wedding cake maker with your florist can help ensure visual continuity for the reception.
Flowerfetti Sure, flowers of every kind are reliable options. But have you heard of flowerfetti? Essentially, flowerfetti is made of edible flower petals, either whole or shredded into smaller, confetti-like pieces. Sprinkled all over your wedding cake, flowerfetti can add a colourful pop.
Hand-finishing This technique entails painting details onto a finished (often fondant or buttercream) cake. Hand-piping icing is often done to create intricate lace details. Other finishing methods can also be used to create watercolour designs, apply gold leaf and painterly textures, or even calligraphy.
Metallic and bejewelled elements Goldleaf is just one type of sparkle you can add to your wedding cake! Nowadays, there are so many incredibly realistic gemstones, pearls, crystals, and metallic pigments, to choose from.
Ribbons & bows Real ribbons can be a classic touch to your wedding cake, but edible ones can bring it to another level. Fondant can be used to create ribbons and bows as well as modern pleats, drapes and folds that add interest to your wedding cake.
Discover Your Dream Wedding Cake
If you need help figuring out which of these types of wedding cakes would be perfect for you, click here to take our fun, quick quiz!

From Traditional Wedding Cakes to Naked Wedding Cakes and everything in between, we help you

Find Your Dream Wedding Cake
Begin Quiz

Wedding Cake Topper
A few additions can be added to the cake to further spice up the whole event. One good example is the wedding cake toppers, popular at weddings in the US around the 1950s.
Traditional wedding cake toppers are figures that are made to sit on the cake, the most common of which are representations of the happy couple in their wedding attire.
Some modern toppers showcase the couples' hobbies, interests, or occupations, depicting the couple costumed or in action. Some custom toppers even go as using the couples' actual faces!
If having figurines of yourselves as a topper isn't for you, you may also choose another design element (most choose big bows or flowers), or forgo it entirely.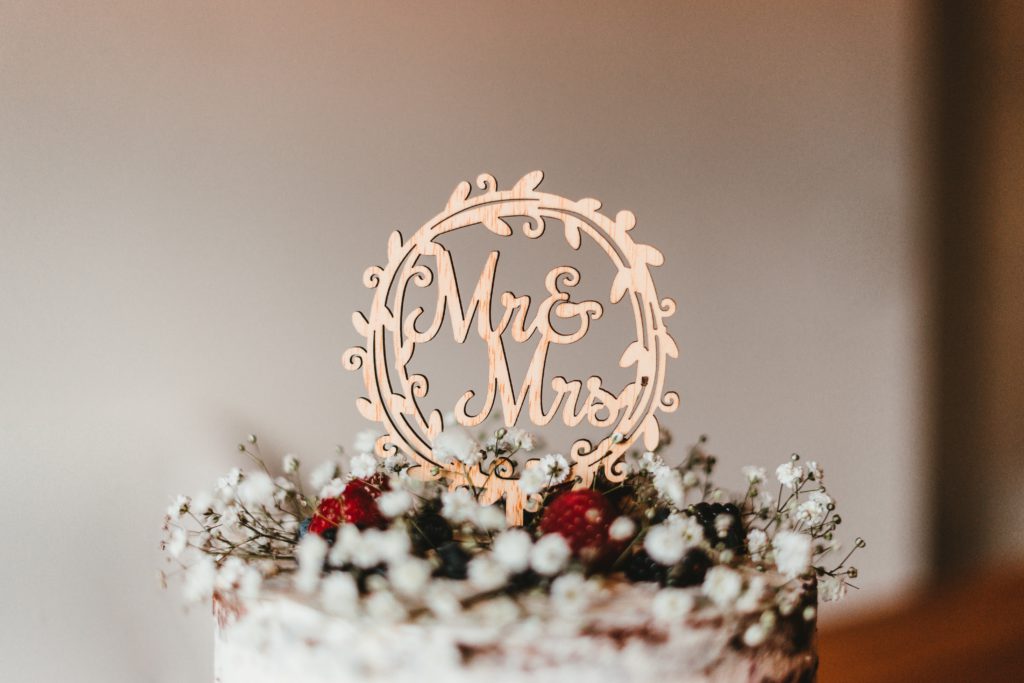 Top Tips for Wedding Cake Success
Here's our advice for having the best wedding cake experience.
Come prepared
As mentioned above, deciding on other wedding aspects, before even thinking about your wedding cake can be a good idea. According to Giorgia Masobello of Sweet Flair in Sydney, "The main factor to consider, other than the taste, is the mood you want to set for your event. The cake should intertwine with all the other elements to create a magical and harmonious space and special moments for the couple." This is especially true for your aesthetic, styling, and florist. "A good way to get an idea of what sort of cake your wanting is to supply us with the whole overview of your wedding," shares Emily Smith of Brisbane's Fig & Coconut. "The vibe, space, florals and colours can bring together a clear idea of what you would like to see. We can then plan around that and choose what finish and design would work best for your event." In fact, one tip is to bring fabric swatches when meeting with your baker to discuss your wedding cake design. This is especially useful if your vision includes colourful accents. Providing a swatch will help your baker match icing colours to your theme perfectly.
Do the math
When deciding on how big your wedding cake should be, while the venue plays a key role, the number of guests you plan on serving is the main factor.
Kacey Lawson of Sydney's Picket Fence Cake Design suggests figuring out "How many guests will the cake need to feed? Will the cake be served as the main dessert or coffee-sized serves only after the dessert? Do you want to keep the top tier to share with your future husband/wife to celebrate your One Year Anniversary?"
Obviously, wedding cakes come in all shapes and sizes, and slices can range from slivers to straight-up chunks. When figuring out the math, some general assumptions based on averages can be helpful:
Unless you are slicing and serving the cake out to each and every person, it's unlikely that everyone will have cake. Allotting 1 slice each for just 75-80% of your guests should be enough.
A good benchmark for each slice of cake is about the size of a standard deck of playing cards: around 6cm x 8cm.
Denser cakes are more satiating, so a little cake usually goes a long way. If your wedding cake is of the sponge or angel variety, consider multiplying these slices by 1.5x.
Also, in line with cutting the cake, remember to factor in the cutting fee. Most venues or caterers charge an incremental fee if your cake is not from them and you choose to serve and slice it during the reception. Different vendors have slightly different rules when it comes to this—make sure to ask about this so it doesn't come up as a surprise on your bill.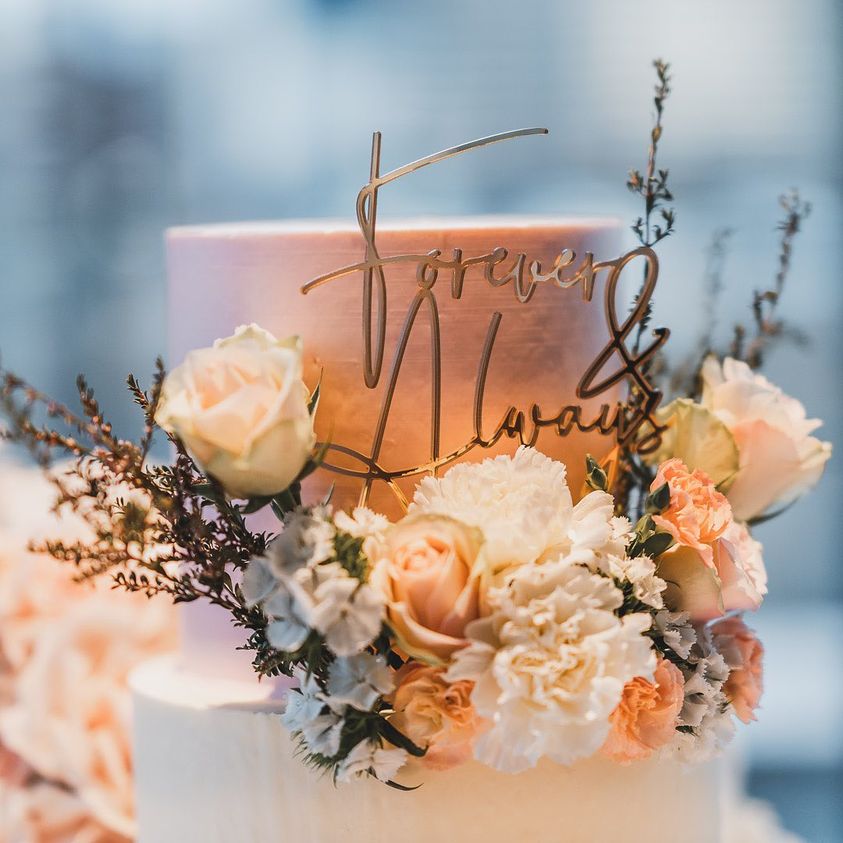 Get the most out of your wedding cake tasting
If you have gotten to the cake tasting stage of planning your special day, then you're almost done with the whole stressful but interesting wedding planning journey.
Tasting is one of the most fun and crucial parts of choosing your wedding cake—and it might also be one of the most surprising!
"I often find when couples have purchased my sample boxes, it surprises them what flavours they end up loving and choosing for their wedding," says Kacey. "It's usually not the ones they originally thought they would choose. Not every person will love every cake. So I would highly recommend trying the cakes first."
Here's how to ensure that you have a successful cake tasting experience.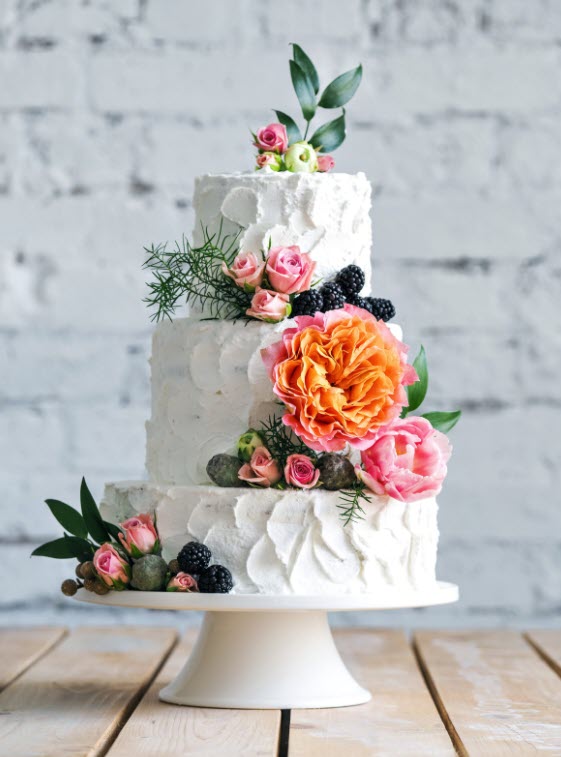 Spread out the wedding cake tasting
Wedding planning is quite time-consuming and stressful at the same time, especially in our current climate. A common mistake is to schedule all your cake tasting for just a day. The problem with this is that you can easily get fed up with the sight of cake before finishing with your second vendor. Each vendor offers at least five flavours, all of which you will want to taste. Two vendors approximate to ten different tastes. Before you know it, you are settling for the next flavour that you put in your mouth simply because you are at your cake limit. To avoid this, spread out your tasting over multiple days. This will ensure you're able to really savour each cake sample, and pick out the one you like best.
Pay attention to the weather
Since outdoor weddings are becoming increasingly popular, you may be planning to go this route for your big day. In this case, you have to consider the prevailing weather before your cake tasting. High temperatures can melt chocolate and buttercream icing while fondant icings hold on more, and the type of frosting definitely plays a major role in the flavour. Check the weather forecast for your big before your cake tasting so you can let your wedding cake vendor know.
Remain hydrated
When you are on that tasting spree from one flavour to the other, it is important to keep hydrated. Drink water throughout the tasting process to keep your palates clean and your tasting buds refreshed. This way, tastes will not get mixed up and confused. You want to be able to differentiate the different tastes, flavours, and textures existing between the cakes. This way, you will be able to choose only the best without the confusion of any sort.
Don't arrive hungry
You must have noticed that every food seems totally appealing to you when you are hungry. This is not any different with confectioneries. If you arrive at your cake tasting venue hungry, every single case you come across will most likely be appealing to you. To avoid this pitfall, arrive at your vendor's store after a meal so that your head will dictate for you and not your stomach. Do not over-feed before arriving. Some people detest any form of food once they are filled. While you are aiming to not arrive hungry and ready to devour, strike a balance.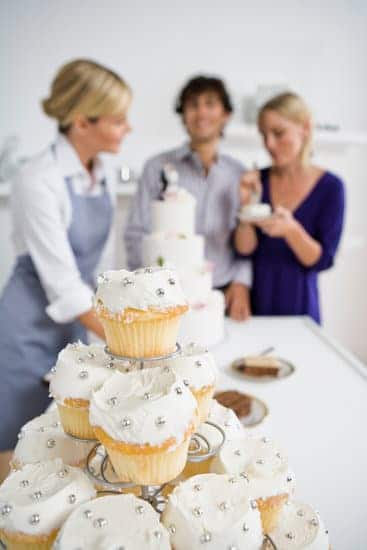 Let you shine through
At the end of the day, the most important thing is that your wedding cake captures your vision and vibes, and that you absolutely love it.
"Do what you want. Don't be swayed by what everyone tells you that you should have. If you love something—do it! It's your day…. it's your cake!" Kacey declares.
"I like to think that cakes are a reflection of your personality or a particular aspect of it," Giorgia agrees, emphasizing, "Let that shine through when you meet with your supplier of choice!"
Emily encourages couples to just go for it, insisting, "Really, your imagination is your limit! That is one of the fantastic things about our industry! It's truly magical!"
Show off your wedding cake!
Lastly, make sure you give your wonderful wedding cake the spotlight it deserves. With so much thought and planning having gone into it, you'll want to showcase this masterpiece.
This starts with making sure all the logistics for it to get to the venue are in place. Whether you're picking it up or having it delivered by the bakery itself or a third-party service, make sure you have the right vehicle for the right cake. Don't risk having it toppled, bounced around, or squished in transit!
Also, ask your venue how long in advance your cake can be set up. Coordinate with your baker, too—some cakes need assembly and setup on the spot.
Finally, at the reception, you might want to ensure that your wedding cake has its own special spot. Preferably, this could include a raised platform or small pedestal. Some bakers, bakeries, venues, or caters have cake stands they can rent out (or throw in for free!)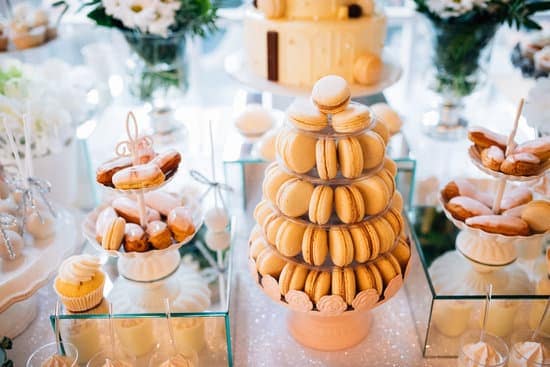 Wedding Cakes – In Conclusion
The wedding cake is many things to different people, but one thing's for sure: as far as wedding ceremonies are concerned, the place of the wedding cake is irreplaceable.
We do hope that our wedding cake guide will help give you the guidance and inspiration you need to land a wedding cake that will wow the sights of your wedding guests and leaves their taste buds asking for more.